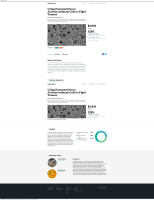 How Crowdfunding predicts trends in society, how research can benefit from Crowdfunding and why it is necessary to combine Science and Crowdfunding – by Karsten Wenzlaff.
Crowdfunding platforms exist for about a decade now, and for more than five years in Germany. While analyzing this market, we noticed something peculiar: trends in society, especially trends around consumer behaviour emerge 2 to 3 years on Crowdfunding platforms before they reach the mass market. Why is this case?
Firstly, the people who are creating new Crowdfunding platforms are highly innovative. They see a gap in funding for a specific niche and then create a platform to bring together money and ideas. Not all of these platforms succeed, more often platforms are created and after a few months the platform ceases to exist. Not enough traction was created, not enough projects were shown on the platform. But for those that succeed, they can often claim to be the first to have developed an innovative funding method.
Secondly, the people who are running Crowdfunding campaigns are often very innovative. They have an understanding of new market trends, new product types, new trends in society. They are not afraid to put their ideas out to the public and ask for support. Not all of them succeed, sometimes their ideas were too early, sometimes the campaign was not convincing enough. But for those that succeed, Crowdfunding can prove a good way to test how a market reacts to their idea.
Thirdly, the people who are funding Crowdfunding projects want to be first movers, they want to shape and influence new trends in society. For them, a mere "Like" on Facebook or a "Retweet" on Twitter is not a real commitment. A dollar or a Euro spent on an innovative Crowdfunding project is a real commitment, because that Dollar or Euro is gone and can't be spend a second time.
This innovation triangle makes Crowdfunding a good predictor for how trends emerge in society. Here are a number of examples:
On Indiegogo and Kickstarter, a number of SmartWatches were founded – a few examples can be found here. When looking at the current SmartWatches (Wearables) on the market, it is clear that the crowdfunded SmartWatches have predicted the features of todays gadgets.
There is an increasing number of platforms in the fields of sustainability and environmental protection – EcoCrowd, OnePlanetCrowd, GreenVesting, GreenXMoney to name a few.
Kickstarter is a good proxy for the development of Games. For instance, in the last few years, a number of Board Games were succesfully funded on Kickstarter, showing that not all games are virtual.
How does this innovation triangle impact research and science?
Well, first of all, a number of platforms have been created which specifically cater for science and research, such as Petridish, Walacea, Experiment and Sciencestarter. Although not as succesful as other platforms, they allowed scientists to interact with an audience which is interested in new scientific developments. Not all of the campaigns have really hit the bar and certainly the vast majority of science funding across the world stems from sources other than Crowdfunding. Those who have succeed, often had to attract a certain popularity that might be adamant to some scientists, such as the Crowdfunding Campaign to research Brain Images of people having taken LSD.
Crowdfunding be a fairly inexpensive but highly motivating of Public Relations for Scientist, creating buzz and news articles if a Crowdfunding Campaign is well executed. It can help to raise the profile of the Scientists involved, makes it easier to find support from private donors or sponsorship from companies.
Especially for young scientist in the STEM-fields (German MINT), Crowdfunding can be a fairly easy way to take the first step in entrepreneurship. The scientists behind Panono have used an Indiegogo Campaign to test whether their product can be validated – and the Crowdfunding campaign in fact showed that a market for a panoramic camera exists.
How can public spending on science benefit from Crowdfunding?
The volume behind Crowdfunding is too small to replace public spending by the goverment or private spending from corporations or wealthy individuals on research – and maybe it shouldn't. There are science projects which are unsuitable for Crowdfunding. But using Crowdfunding platforms as a way to reach out to society as a whole might help scientists to better communicate their results to the public. This can help attract new talent and make people more interested in pursuing an academic career as well.
An important part of fostering Crowdfunding for the scientific community is connecting public funding and Crowdfunding. A first step can be seen in the changes of the German Exist-Program, which supports entrepreneurs with an academic background. The Exist Program allows to use parts of funding dedicated to marketing to be spent on Crowdfunding Campaign. It might be interesting to see whether other support schemes for science will include Crowdfunding as a tool for public relations in the future as well.
If you are interested in Crowdfunding and need advice or support, feel free to contact us.